Four score and ten years ago, our Heavenly Father brought forth on this continent, a unique preacher, bursting with Holy Ghost fire, and dedicated to the proposition that all men must
Repent
and Try Jesus! March 29, 2018 marked the 95th Anniversary of Rev. Bailey's birth. Happy 95th Birthday Anniversary Rev. C. B. Bailey. What a legacy! Experience that dynamic preaching again.
Additionally, October 24, 2018 marked the 93rd Anniversary of Mrs. Bailey's birth. Happy 93rd Birthday Anniversary Mrs. Geneva Bailey!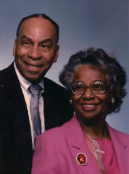 Founded in 1998, The Bailey Christian Education Fund (BCEF) was established for the sole purpose of providing financial assistance to qualified applicants who are committed to receiving Christian Education to help them build and edify the saints of God or individuals who have committed their lives to a Christian Evangelism Organization that is engaged in seeking and evangelizing the lost.
T
hanks to our donors,
t
o date, the 8 member Board of Directors has reviewed numerous applications and awarded nearly $10,000 in scholarships and financial assistance. Click BCEF Scholars to meet our scholars, view
their accomplishments and find out how they are advancing the cause of Christ.
If you have been blessed by Rev. and Mrs. Bailey, wouldn't you like their legacy to continue? Won't you contribute to this cause? BCEF is an IRS approved 501(c)(3) organization. Your tax deductible contribution would be greatly appreciated.

Donate now by clicking here:

When you shop at Amazon, use
AmazonSmile
and they'll make a donation to BCEF.
Or mail your generous check (payable to BCEF) to:

~ Give a one time contribution of any amount small or large

~ Donate $10, $25 or $50 each month
~ Contribute to BCEF as part of your employer's annual giving campaign

~ Ask your church to include BCEF in its charitible giving

~ Tell someone else to visit this site